There may come a time when your company can't achieve every marketing goal internally and you need to outsource a service—in which case, you must first shop around.
A Request for Proposal, or RFP, allows you to collect offers from various agencies and select the one that best meets your criteria, both in regards to expertise and budget. Many amazing marketing and business collaborations begin with an RFP.
Why Use a Marketing RFP?
Because an RFP is a single document that gets submitted to multiple vendors, the process saves you time by connecting you to many qualified digital marketing agencies in one fell swoop.
If you have created a well-written and thorough RFP, you'll receive equally informative proposals complete with the agency's skill, pricing and deliverables unique to your requirements. With these factors to review with your team, you can easily identify the best fit—without the hassle of individual interviews.
Below are 15 key points to include when structuring your marketing RFP. We'll use a healthcare agency looking for outsourced Linkedin and Instagram help in the examples shown throughout.
But keep in mind: while these points are standard for optimizing your number of replies, there's no need to adhere to a restrictive, cookie-cutter format. Let them guide you to an RFP that represents your company's needs.
15 Points to Include in Your Marketing RFP
1. Invitation to Tender (Overview)
Each RFP should include a comprehensive overview of exactly what you are asking the vendors to bid on. Take a look at the example below:
"[COMPANY NAME], an organization in the [INDUSTRY NAME], healthcare agency in the community care sector, would like to invite your company to propose for [COMPANY NAME]'s LinkedIn and Instagram Content and Account Management. Please see Part A: Requirement of this RFP for details. Should you require more information on our organization, please visit our corporate website at [YOUR WEBSITE]."

2. Background
This is your opportunity to tell your company mission and vision, and let them know what makes you unique. It's also the space to explain why you think their marketing agency is a good fit—a necessary detail to receiving tailored bids.
Once again, an example can be found below:
"[COMPANY NAME] seeks to create a vibrant care community enabling people to live well and age gracefully. [NAME] coordinates and facilitates efforts in care integration to achieve the best care outcomes for our clients. We do this by empowering them with health and social care information and arranging for their care when they are discharged from hospitals. Our work in the community brings care services and information closer to those in need. For more information, please visit [WEBSITE], or read our blog article on [BLOG URL]."
3. Submission Deadline
You'll need to clearly present important submission information so each vendor knows how and to whom they must submit for consideration.
"Please submit your proposal by [DATE, MONTH, YEAR], to [NAME] at [EMAIL ADDRESS]."
4. Contact Information
It's also good practice to have a window when they can contact your business with any questions before the final decision is made.
"For clarifications, please contact [CONTACT NAME] at [EMAIL ADDRESS]. All clarifications are to be made in writing before [DAY, MONTH, YEAR], [TIME] and shall form part of the eventual Contract."
5. Timeline
When you include a timeline in your marketing RFP, you eliminate any vendor who can't work within your frame. Each timeline typically marks the completion of project phases such as strategy, planning, and implementation.
If your project is complex and you're unsure of which dates to include, use estimates (noting that the deadlines are flexible). Alternatively, you can ask the bidder to provide an estimated timeframe in their reply; but be sure to guide them with a clear vision of how long each project should take.
"Tenderers should provide a concise proposal of how they intend to consolidate and improve [COMPANY NAME] social media presence, including milestones, timeline of implementation/phases and related key performance indicators (KPIs) for each social media platform."

6. Objective/Marketing Goals
You'll want to have an outline of expected goals and outcomes from each project portion. For example, objectives can include search engine optimization, advanced lead generation strategies or paid media strategy. It's important you are very clear here, so you avoid any miscommunication or confusion within the bids or in the future collaboration.
"The appointed Vendor will work with [COMPANY NAME] [DEPARTMENT] team to produce content for [COMPANY] Linkedin and Instagram. The Vendor is required to create content and manage both the Linkedin and Instagram page. The objectives of the projects are ranked in order of priority as follows:
Linkedin
Increase followers by 20%, or to [FOLLOWER COUNT], by [DATE] (whichever higher)
CPE and CPA to be proposed and discussed with the appointed vendor.
Instagram
Increase followers to [FOLLOWER COUNT], by [DATE]
CPE and CPA to be proposed and discussed with the appointed vendor."
7. Target Audience
To help a marketing vendor understand your goals better, they'll need to have a firm grasp of your target audience.
"Target Audience
Mostly Singaporeans Professionals
Aged mid-20s and up
Target Audience Needs
Wants to join a sunrise industry for professional growth
Wants career opportunities
Wants to switch career to contribute back to society
Wants to know what [COMPANY] can offer (welfare, work-life balance, culture)"

8. Brand Guidelines
Similarly, including brand guidelines will lead these marketing bids in the right direction. This may be the first time a vendor is seeing your brand, so providing these details will help them get to know you. You can include:
Logo
Tagline
Typography
Color specifications
Other visuals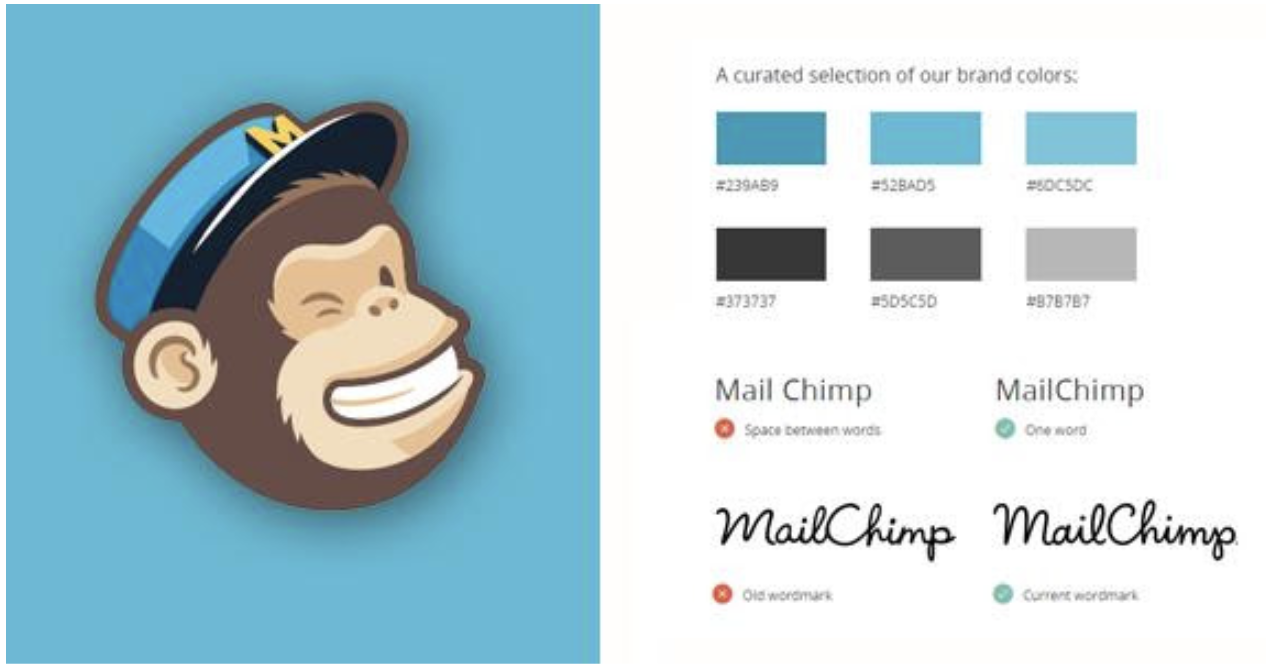 A taste of Mailchimp's brand guidelines illustrates some details you may like to include in your marketing RFP.
9. Budget
Any vendor needs to know what you're able to afford to pay for their service before they'll move forward with you, as well as a number or pricing schedule for the media budget.
Take a look at the example text and table below:
"Please provide an itemised quotation of all costs for the production of the stories, using the table provided. The vendor should also indicate whether the cost is inclusive of GST.
Vendor is to indicate clearly all costs, including optional costs for items not requested in the specifications but will value-add to work proposed. Vendor will provide an invoice at the end of every month for work done.
Vendor will be paid on a monthly basis, 60 days from date of receipt of invoice, upon satisfactory completion of project.
Any special payment milestones are to be stated clearly in your quotation."
S/N
Item
Description
Quantity
Unit Price (SGD)
Sub-Total (SGD)
Section 1: LinkedIn
1
Monthly Project Management

Agency to work closely with [COMPANY] on producing content each month
Includes scheduling and uploading of post

12
2
Linkedin Advertising Management

Purchase and manage monthly Linkedin ads on behalf of [COMPANY] for Linkedin page
Optimisation of ad performance
Media Budget for boosting ($1,000 x 12 months) - Including agency fee
(Please indicate Agency fees here: ___%)

12
$1000
$12000
3
Linkedin post (72 posting a year)

Post adapted from other [COMPANY] social media platforms (e.g. FB page and blog, and blog)

Vendor is required to provide basic photo editing and Linkedin caption.

54

Multi-frame, GIFs or short video clips, to be created based on advised topics

Background information will be provided by [COMPANY]. Vendor is required to create graphic and basic photo editing and provide Linkedin caption.

18
Grand Total
Optional Items
10. Scope of Work
Dig a little deeper here to outline individual criteria, usually in bullet format. Be specific in the tasks they will work on, such as number of monthly content pieces to be delivered, percentage of increase in social media followers, or monthly ads to be run.
"Linkedin page and project management:
Where vendor is expected to create post graphics, content will be given 2 weeks in
advance of upload. Vendor will submit 1st graphics draft and the proposed Linkedin post caption within 3 working days.
Where vendor is expected to only post content given by [COMPANY NAME], will give the content 3
to 5 working days in advance of upload. Vendor will propose Linkedin post caption within 3 working days.
Scheduling and uploading of Linkedin Posts based on content calendar. Vendor will be given access to the [COMPANY] Linkedin page.
Vendor is required to schedule and post cleared content and caption in Linkedin.
Linkedin Content Creation and Management:
Production of up to 72 content pieces (up to 6 per month).
Includes research for relevant information to produce content, including copywriting and artwork
All stock images, etc (if required) to be provided by vendor"

11. Potential Roadblocks
Hubspot explains that a successful RFP is explicitly clear about potential pitfalls that could slow the projected timeline or fall outside their area of expertise. For example, "Are you dealing with custom coding or an outdated platform? Does your team have limited resources?"

12. Deliverables
Once the details have been defined, it's useful to clearly describe what you expect to receive from the agency in their bid. Using a checklist here is a great strategy to see who's capable of meeting your demands and has read the full RFP.
"Vendor's Proposal for a year-long social media and content marketing strategy and content pillars that best represents the [COMPANY] Linkedin and Instagram platforms' Target Audiences. The proposal should include:
How the requirements specified in Part A: Requirement Specifications will be met.
Submission Mock-up Requirements.
1 Linkedin and 1 Instagram mock-up intended for upload for [COMPANY] Linkedin and Instagram, as specified in Part 6 Submission Mock-up Requirements.

track record of past clientele for social media management with at least 2 postings that can showcase copy and creative. (Samples of work related to healthcare or Community care are preferred.)
Relevant partnerships (e.g. Linkedin partner, Facebook Partners etc)

Pricing Schedule included in this RFP document
Proposal should be prepared on the company's letterhead, signed off by an authorized personnel in the company, indicating the person in charge, contact number, address and email etc"
13. Samples
You can request marketing samples of past work, case studies, or projects completed within similar industries. This is a standard procedure for marketing services to prove they have the expertise to meet your criteria.
"Company information including portfolio within the last three years of related industry clients and profiles of proposed account servicing team" or "Vendor must have prior experience managing at least one of the social media page for business; Facebook, Linkedin, Instagram."

14. Evaluation Criteria
The bidders should have an understanding of how you plan to assess their offers. This criteria can include samples, KPIs, experience with social media, and/or cost of service within your price range. Take the time to brainstorm these items with your team before eliminating vendors who don't meet them.
Alternatively, you can simply state how you plan to evaluate each vendor according to a percent weightage for each category.
"Effectiveness and feasibility of proposed strategy and timeline - 40%
Price competitiveness - 50%
Track record, including clientele and experience in similar projects, and samples of account servicing team's portfolios - 10%"
15. Terms and Conditions
For legality's sake, you can include a copy of your company's Standard Conditions of Contract here.
"[COMPANY] will own the rights to the content written, the final artwork, illustrations/infographics/photographs/videos/GIF. Rights to stock photography / music purchased for use in the content will also reside with [COMPANY] in perpetuity for use in various mediums according to our discretion."
Key Takeaway
The more unique, clear points you can include, the more likely you are to receive more targeted responses. While you may need to dedicate more time upfront to include these steps, you'll get closer to achieving your goals in the long run. Clarity in your writing is a strong precursor for the success of any collaboration to come from a marketing RFP.