TikTok is the latest phenomenon that's taking the world of social media by a storm. But if you're still wondering what the fuss is all about, read on.
This quirky app seems to be all the rage among Gen Z at the moment and chances are you might have caught glimpses of it by now. (And if you're past the age of 30, chances are, you might have secretly cringed at some of the content.)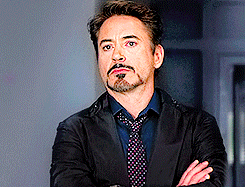 However, the meteoric growth of the app has caused many marketers and brands to take it seriously. If you're still quite new to this, here are 7 things about TikTok to help you figure out if it might be worthwhile to leverage the platform for your social marketing strategy.
1. What is TikTok?
For the uninitiated, TikTok is simply an app that allows users to create short 15-second videos (or 60-second Stories-type videos) on any topic and share them with their social media followers.
Now, creating videos might seem like quite an uphill task for most people unless you're really creative and skilled. So, does that mean TikTok is only meant for the artsy and creative folks? Not at all.
You can upload your pre-recorded video clips using the app or record them on the fly and edit them using TikTok's built-in plethora of easy-to-use tools. Adding special effects, audio, speeding up or down, and flipping between the rear and front camera on your phone has never been easier.
2. How Did it All Begin?
TikTok's roots can be traced to Musical.ly - the app that teenagers around the world would use to create videos of them lip-syncing to music videos. It went on to gain popularity very quickly and garnered more than 130 million users. A million new videos were being uploaded every day.
In November 2017, Musical.ly got acquired by ByteDance, a Chinese company, and in August, 2018, all of the content and users on Musical.ly were merged with their own video-sharing app, TikTok. In China, the company continues to have a separate app (having similar features) known as Douyin.
3. How Popular is it?
Ever since the new TikTok launched in August 2018, it has recorded phenomenal growth. In November 2019, it surpassed the 1.5 billion mark in app downloads (Google Play Store and App Store combined).
In fact, it was the third most downloaded app in 2019 (in the non-gaming category) behind only WhatsApp and Facebook Messenger, and beating the likes of Facebook, Instagram, and Snapchat.
What's even more amazing is that it grew from 500 million to 1 billion downloads in just seven months and to 1.5 billion in just under another nine. In the US, TikTok enjoys the longest average session duration out of all social media platforms (10.85 minutes) and users access the app eight times a day.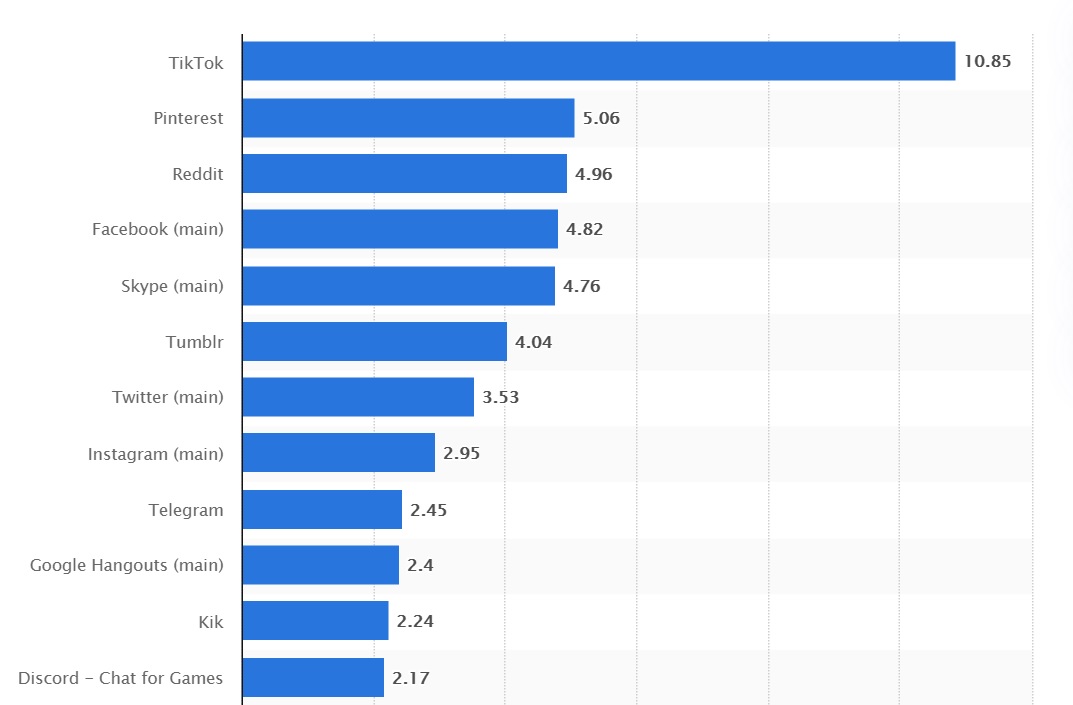 Image Source: Statista
4. Who Uses TikTok?
India is the biggest market for TikTok with 31% of all unique installs, followed by China at 11.5%, and the US at 8.2%. In Asia, it has surpassed Instagram in popularity, claiming the top spot in countries like Japan, Taiwan, Cambodia, Thailand, and Vietnam. Most of TikTok's user base is comprised of teens and tweens with 41% of the audience aged between 16 and 24 years.
5. What Kind of Content Can You Expect?
With the acquisition of Musical.ly, the combined TikTok app has significantly broadened its horizon as far as the content is concerned. No longer is it focused solely around music or lip-syncing. In fact, comedy now rules the platform - analysis of the most popular videos on TikTok indicates a significant correlation between funny videos and virality.
But even apart from these, you're likely to come across a variety of different types of content such as cooking tutorials, makeup tutorials, prank videos, memes, hair-raising stunts, magic tricks, product endorsements, and challenges.
Challenges are, in fact, one of the most popular forms of content on this platform. Celebrities or influencers share a particular hashtag and challenge users to create and upload videos related to the theme using that hashtag.
One of the most famous challenges on TikTok was the #tumbleweedchallenge from TV personality, Jimmy Fallon, in which he challenged users to share videos of themselves falling to the floor and rolling like a tumbleweed.
Within a week, it generated over 10.4 million engagements and more than 8000 submissions, which according to TikTok, was the biggest spike in engagement recorded from a single challenge.
There is also a strong emphasis on localized content on TikTok. For example, the company runs the "1 million audition" contest in several countries in which it provides the theme to create videos around and then awards the top video creators. Not only does this help create a lot of local content in each country, but also helps creators gain fame and recognition.
6. How Does it Compare with Instagram or YouTube?
One of the main reasons why TikTok has become so popular (surpassing Instagram) is because of its raw, unmasked appeal. It doesn't mandate the need for unrealistic aesthetics in your content unlike Instagram. Instead, it allows users to portray themselves as they are, from the comfort of their homes, free of inhibitions.
Plus, its array of video editing tools has effectively demolished all barriers that prevent people from getting creative and expressing themselves using video. The success of your content no longer gets determined by your technical proficiency (as is the case with YouTube).
In addition, TikTok uses AI to learn the preferences of users by capturing which videos they like and comment on along with how much time they spend watching them. Since these videos are quite short, it allows the company build sizable datasets in a very short time. This allows them to provide users with a steady stream of content suited to their tastes.
TikTok's AI also helps creators produce viral videos by suggesting filters, music, and hashtags that have proven to be popular based on their content category. This encourages more and more individuals to join the platform to consume engaging content as well as produce content that has a strong likelihood of becoming viral.
7. How Can You Leverage it for Marketing?
The growing popularity of TikTok in such a short span of time is a good enough reason for you to consider the platform for your marketing. In fact, many brands have jumped on the bandwagon already and have seen quite a bit of success from it.
However, most of them have been using it to generate brand awareness than leads or traffic. Since the platform caters to a young audience, brands are also using it to show off their lighter, quirky side through funny videos and other engaging content.
If you want to engage younger audiences and build a creative and fun marketing strategy, you should definitely leverage TikTok. Here are some ways in which you can do so:
a) Create Your Own Channel and Upload Original Content
It's pretty easy to create your account and get started on TikTok. You can create 15 or 60 second videos on the fly or upload pre-recorded videos. TikTok offers a variety of editing tools using which you can add music and special effects to your videos. You can even share these videos on other social media platforms and reach more people.
Take a cue from Mexican restaurant chain, Chipotle, who have over 240K followers on TikTok. They post a variety of different types of content ranging from challenges, memes, comedy sketches by influencers, funny videos, behind-the-scenes footage of some of their dishes being prepared, photos of their food shared by their customers, sneak peeks at their new restaurants, and a whole lot more.
Challenges are also a great way to build your brand through user-generated content on TikTok. For example, in 2018, GUESS partnered with TikTok to throw open a unique hashtag challenge to their audience on the platform. The contest invited users to create videos showcasing their GUESS denims and share them with the #InMyDenim hashtag.
The challenge quickly went viral and is a great example of how products being used by real people can be used to entice customers and build brand awareness.
b) Leverage Influencers to Spread Your Message to a Wider Audience
If you're new to TikTok and don't have a big enough following, it's best to partner with relevant TikTok celebrities and have them create and promote brand-specific content. The important thing here is to choose influencers whose audience are likely to be interested in your products.
You need to also ensure that you don't restrict your influencers with your content guidelines. Instead, leave it to them to create the kind of content that can engage their followers most effectively (even if it looks amateurish to you). Here's an example of a beauty influencer endorsing a makeup product in one of her videos.
c) Advertise on TikTok
TikTok also offers advertising opportunities for brands. Considering that this market still isn't saturated, this might be a good option for you to explore if a significant chunk of your target audience is comprised of Gen Z and young millennials.
Although bigger brands like Nike, Fenty Beauty, Grubhub have already started leveraging TikTok ads, its premium pricing still makes it a little less affordable for smaller businesses. The CPM for these ads start at an average of $10 and you need to invest a minimum of $500 in your campaigns (both daily budget as well as total budget).
However, it does offer the option of running your ads not only on TikTok, but also on its family of platforms such as BuzzVideo, Vigo Video (in India),and News Republic. The different ad formats TikTok offers are hashtag challenges, in-feed ads, and brand takeovers.
Do you know of any other interesting TikTok facts we might have missed out on? Let us know in the comments below or email us at editor@brewinteractive.com