This article has been updated for 2020.
Here are some interesting WeChat statistics that will help you understand just how powerful this platform is. After all, nothing beats concrete proof, right? So, before you go ahead and formulate your WeChat marketing strategy, we'd strongly recommend that you check out these statistics.
1. WeChat has over 1.15 billion monthly active users.
Originally launched by Tencent in January 2011 in China as a messaging app called Weixin, WeChat has grown by leaps and bounds. It went on to become an integral part of people's lives helping them connect with friends and family through text messages, voice, and video calls.
In 2012, it was rebranded as WeChat for the international market. However, in China it continues to exist as Weixin. As of September 2019, the combined monthly active users of Weixin and WeChat grew to 1.15 billion, up 6.3% year-on-year. A whopping 45 billion messages are exchanged on WeChat every day.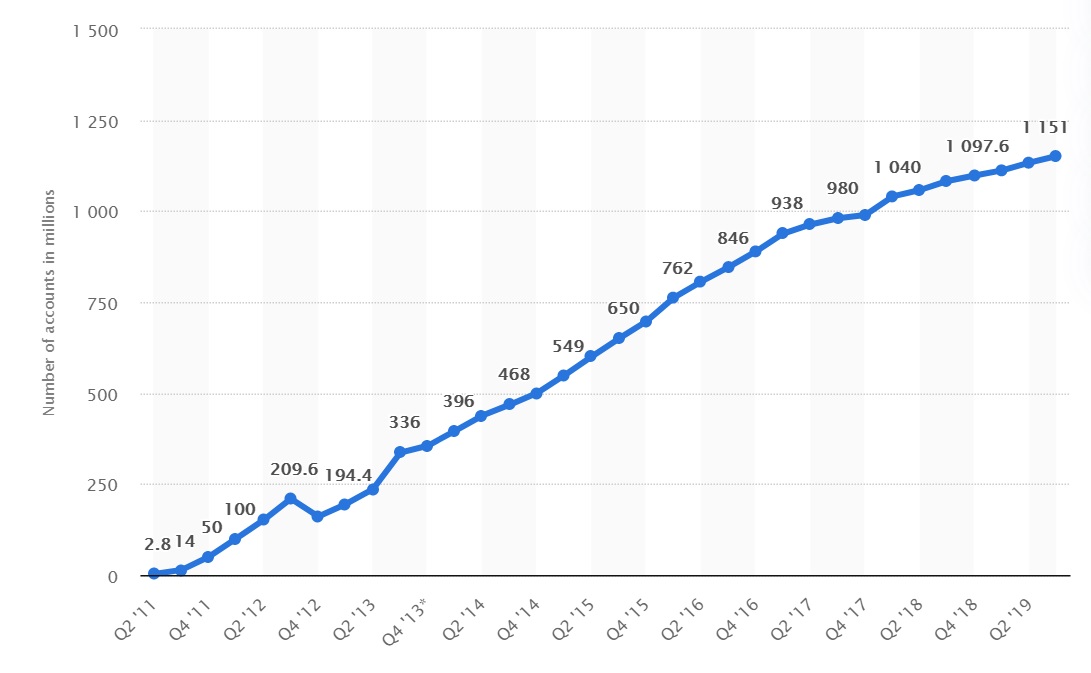 Rise in the number of monthly active WeChat users from Q2 2011 to Q3 2019 [Source: Statista]
However, WeChat isn't limited to just being a messaging app. It also allows you to read news, play games, shop, share glimpses of your life, read interesting articles, make payments, book a cab, and so much more. The immense popularity of this platform is the force that drives countless brands to invest heavily in WeChat marketing.
2. Over 50% of WeChat users are aged between 25 and 35 years.
Out of the total WeChat users in China, 28.3% belong to the age group of 25 to 30 years while another 25.1% of users are aged between 30 and 35 years making this the largest age demographic. This is closely followed by users between the ages of 19 and 24 years who constitute 19% of the total number of users. So, if your business caters to these demographics, WeChat marketing might be extremely beneficial for you.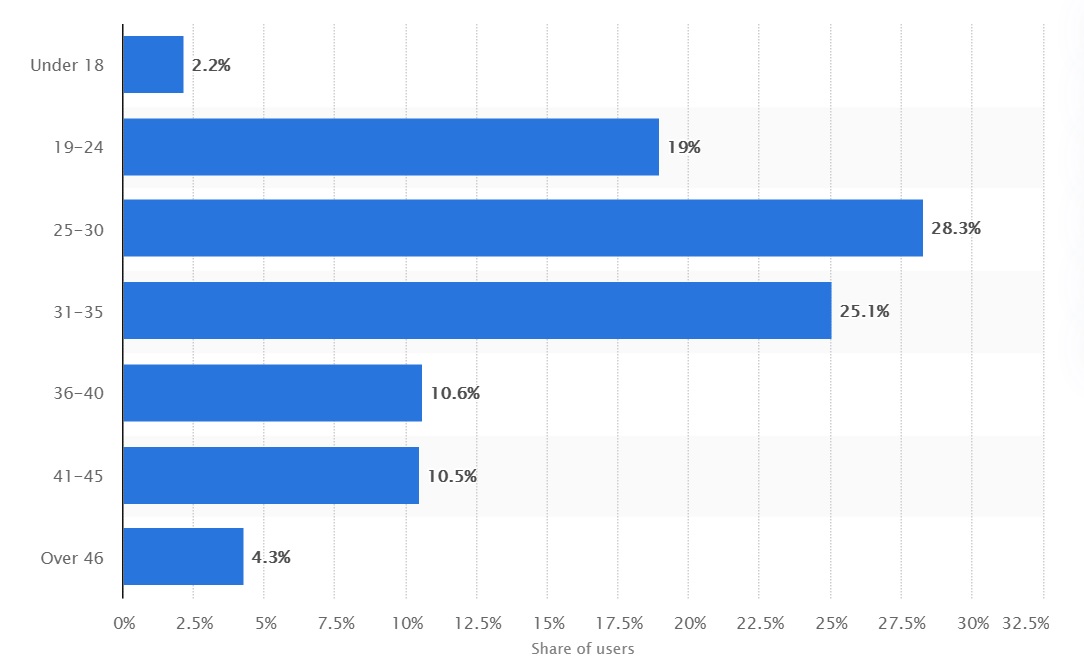 Distribution of WeChat Users according to age groups. [Source: Statista]
3. Over 2.5 million companies use WeChat Work.
Okay, so what's WeChat Work? It's an evolved version of this all-in-one communications app suitable for businesses to communicate with their employees and customers.
Enterprises can use it to share important announcements with their employees, manage time and attendance, manage tasks, create reports, and a whole lot more. Employees can even make work related calls that are billed to the company and send and receive emails using the app. The app integrates with multiple other third-party apps for accounting, workflow management, HR operations, CRM, and so on.
However, the best part about WeChat Work is that it allows companies to connect with their prospects and customers more personally. They can send personalized product or service recommendations to prospects based on their browsing history. They can even send them service reminders or product information and resolve their queries or issues through the platform.
In 2019, Tencent launched a new update to the app (WeChat Work 3.0) which included integration with WeChat Moments and productivity tools to help businesses connect with and retain customers more efficiently. WeChat Work has more than 60 million monthly active users. So, even if your business caters to other businesses, WeChat marketing is still a lucrative option.
4. WeChat Mini Programs have over 300 million daily active users
Launched in January 2017, Mini Programs are certain sub-applications within WeChat that enable users to access third-party service providers related to food, education, travel, tickets, and so on. The main advantage to users is that they don't need to install separate applications for each of these. WeChat Mini Programs allow users to access these services from within the app and exit them after use in a seamless manner.
By the end of 2017, 580K Mini Programs were created and this number has now crossed the 1 million mark. The WeChat Economic & Social Impact Report 2017 found that 64.4% of WeChat users believed that Mini Programs have made their lives extremely convenient.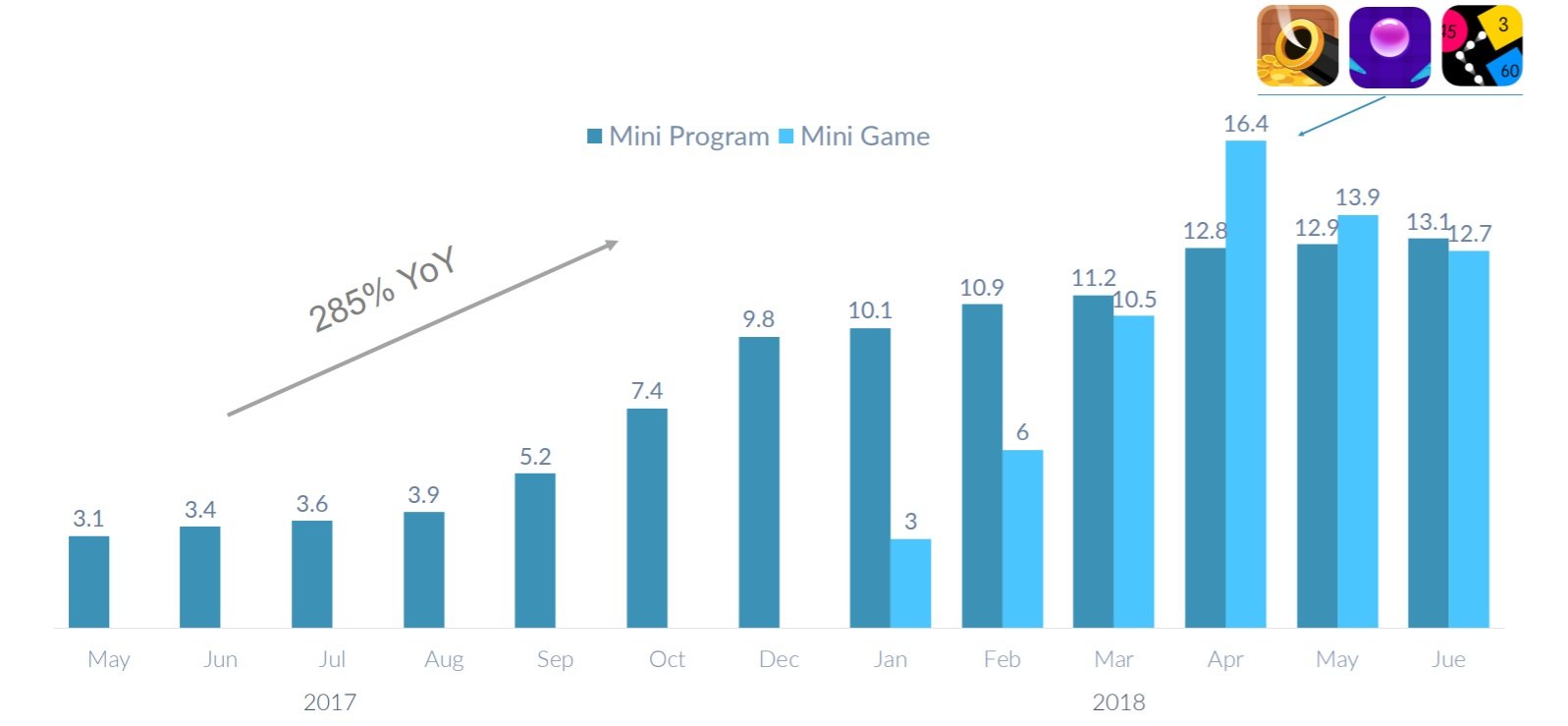 Average length of visit on Mini Programs. [Source: WalktheChat]
In fact, some companies have observed higher conversion rates on their Mini Program than their native app. For example, ecommerce brand Mogujie noticed that their daily average conversion rate on their Mini Program was double that of their app.
Not just that. Even offline stores like Yonghui Superstores saw a huge increase in their user digitization rate after adopting the Mini Program. It went from 30% to 87% in just three months.
Mini Programs have been leveraged successfully by companies in other industries as well. Bus Steward launched a Mini Program to help passengers purchase tickets and adopt smart travel options spanning 13 cities in Jiangsu. This Mini Program had been used over 11 million times by the end of 2017.
It's, therefore, no wonder that over 300 million people use Mini Programs daily causing advertising revenues from Weixin Mini Programs to soar. Tencent also features vertical Mini Programs now, for mobility, healthcare, and smart retail services via Weixin Pay entry points.
In 2019, Tencent sought to enhance their Mini Programs ecosystem by introducing the Growth Program. This aimed at providing development tools and training for Mini Programs system integrators so that they could support Mini Programs owners better. They also introduced Industry Assistant which is a dashboard tool to enable Mini Programs owners gain useful analytical insights into their operations so as to improve their efficiencies.
As a result, for mid-to-long tail Mini Programs, the number of daily commercial transactions in 2019 have increased by more than double year-on-year. Also, the average number of Mini Programs used per person increased by 98%, the average number of Mini Programs visits per user went up by 45%, and the average retention rate went up by 14% as compared to the previous year.
5. WeChat has more than 20 million registered Official Accounts
Official Accounts provide businesses a means to interact with their customers and prospects, share content, promote their products and services, and make sales. They're the equivalent of Facebook Pages. Brands can leverage them to increase their visibility, grow followers, send them notifications, and redirect them to their website or product pages.
Official Accounts have been immensely beneficial to businesses and have provided them with a low-cost tool for marketing their products and services. In fact, more than 32% of businesses have been able to sell products using Official Accounts while 40% have used it to provide customer or public service. Another 34% of businesses were able to reduce costs by more than 30% using Official Accounts.
As per the latest data, over 80% of WeChat users access Official Accounts. In fact, while the average amount of time that users spend on WeChat daily is 77 minutes, about 10-30 minutes out of this are spent browsing Official Accounts by more than half of them. Also, as compared to regular WeChat users, users of Official Accounts are younger and have greater online consumption capacity in Tier 2 cities and above.
6. Over 50 million businesses in China use WeChat Pay
China has over 72 million registered businesses, out of which 50 million are already leveraging WeChat's payment platform actively. In fact, more than 2.5 million convenience stores are known to use WeChat Pay.
This payment platform is a key driver of China's international reach enabling cross-border payments in over 60 markets now. In 2019, the number of such payments increased by 76% with the number of daily average WeChat Pay users rising by 70% compared to the previous year.
WeChat Pay now includes rich features such as face payment, QR code scanning for purchases, smart operation, and integration with ecommerce Mini Programs that makes it much more effective and efficient as a retail industry solution.
Final Thoughts
The statistics mentioned above are pretty impressive and illustrate just how powerful WeChat has turned out to be. So, if you still haven't considered integrating it into your overall marketing strategy, it's high time that you start doing so.
Can you think of any other interesting WeChat statistics we might have missed out on? Share them with us in the comments below.